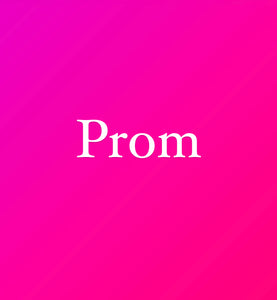 Custom Prom Dress consultation
Regular price $25.00 Sale
Thank you for your interest. Before contacting us, complete the purchase. 

Continue to checkout.
Select cash app as form of payment. Complete purchase, then send $25 to $sherrwalton. Please give us 2- 8 hours to respond.  ( NON - refundable) . We will not respond if you select a different form of payment. 

Please note: the consultation fee does not go towards the balance of the dress. 
During the consultation we will discuss pricing, payments, dress style , color, fabric, and measurements. We will answer any questions you may have. You can send up to (3) different styles. Please have an idea of what you want. 

Please note : the consultation is conducted via email or text. It's best for us to keep the entire conversation  documented. 

YOU MUST CONTACT US VIA EMAIL OR TEXT TO BOOK A SPOT FOR PROM. SPOTS ARE LIMITED.
Step 1:  Inquire
Once you've decided on the design and paid the consultation fee, please contact us via email or text for a quote.

Email:info@merakibysherry.shop
Text: 818 570- 8028
PLEASE INCLUDE

1. Your Name

2. Your state / city
3. Photo of dress ( please indicate any changes you would like to make) 
4. Height
5. Body picture (WILL NEED MEASUREMENTSl LATER )
6. Exact Prom Date / month 
7. Budget
If the price we quote you is not within your budget then let us know . We can make minor adjustments to the style of fabric to make it fit your budget. However, custom gowns are starting at $1000, fabric included . The price will not be lower than $1,000 unless it's one of our gowns that you want to customize. 

Step 2: Book Us
If you do not wish to pay the full price today, then a deposit is required. The deposit is 50% of the total price and it is deducted from the total price. All payments will go towards the balance. All payments are non- refundable 
You will receive an invoice from our website to make a payment. You must select sezzle, zip pay , or cash app as form of payment for custom prom dresses. WE DO NOT ACCEPT PAYPAL FOR CUSTOM ORDERS. 
ALL PAYMENTS ARE NON REFUNDABLE 
Step 3: Measurements
Please provide us with your specific measurements at least 2-3 months prior to your event. You can take your own measurements or go to a local bridal shop. If you need assistance, we can set up a FaceTime appointment or you can visit our measuring page. Virtual appointments ONLY. All dresses will be shipped.

IF YOU HAVE ANY QUESTIONS OR CONCERNS, PLEASE CONTACT US VIA EMAIL OR TEXT. 
EMAIL: info@merakibysherry.shop
TEXT ONLY: (818) 570- 8028
Step 4: Production 
Production time for gowns during prom season is 2-3 months, the exact details can be discussed during consultation. Once the production process has started no changes can be made.

Step 5: Delivery 
We will send photos of the final look for approval before shipment. All dresses will be shipped. Account must be satisfied before shipment . No exceptions 
REFUND/ EXCHANGES 
Meraki by Sherry is a customized boutique. All pieces are made one by one, custom to each client's specific measurements, height and color request. Some dresses are made to order. Therefore ; NO REFUNDS OR EXCHANGES. We DO NOT offer exchanges for incorrect sizes. Once an order has been placed and payment has been made, all payments are applied to the making of your dress including securing the fabric from outside vendors and stopping payments already made to vendors is not possible. We are not able to assume financial responsibility for changes in your personal situation. We are not responsible for changes in size due to weight loss, weight gain or pregnancy. We offer alterations for only. However, if alterations are needed, you have 7 days to return the dress. There will be an additional fee if you loss or gained weight. We are not responsible for wrong sizes. When ordering, please be advised that in some cases minor alterations should be expected. For this reason , please order in advance. Client is responsible for all shipping fees. 
Changes
I realize that having a custom dress made is a sort of evolutionary process, and sometimes it may be necessary to make changes to the design or construction in order to make it work. However, the earlier in the process these changes can be made the better, so if you are thinking that you would like to make a change, please let me know as soon as possible so that I can accommodate your request.  In most cases, if you let me know soon enough I can make minor changes at no additional charge. If there is a major change which requires the purchase of more material or additional labor, there may be extra charges which will be agreed upon by both parties before the changes are made. However, once the production process has started no changes can be made.
Cancelled Event
In the unfortunate event that your event is canceled, you are still responsible for the full total of the dress which should be paid no later then the Date of the event as recorded in our records. If the date is postponed, the balance will still be due by the original date provided. If the account isn't satisfied by then, the dress becomes property of Meraki by Sherry and can be immediately sold for profit. (If a payment arrangement is needed please keep in contact with us)
 Please note: We do not ship orders on Saturday or Sunday.
We look forward to doing business with you!
You look forward to working with you